This is why we stand out from the rest
| AmazingClubs.com | |
| --- | --- |
| MonthlyClubs.com | Offers Four Unique Beer Club Options |
| | Offers Three different Wine Club Options |
| | Shows past featured products since year founded |
| | Can order 2-12 months on all clubs |
| | Gift Memberships can be paid monthly |
| | Offers Design Your Own Club™ Program* |
| | Exclusive Featured Products available only to members** |
| | Re-order your favorite wines, beers & cigars online |
| | A+ Better Business Bureau Rating |
| | Beer Club options with both Imported & US Beers |
| | Beer Club options with both 750 ml and 12 oz Beers |
| 2004 | Year founded |
| ClubsGalore.com | |
| --- | --- |
| MonthlyClubs.com | Offers Four Unique Beer Club Options |
| | Offers Three different Wine Club Options |
| | Shows past featured products since year founded |
| | Can order 2-12 months on all clubs |
| | Gift Memberships can be paid monthly |
| | Offers Design Your Own Club™ Program* |
| | Exclusive Featured Products available only to members** |
| | Re-order your favorite wines, beers & cigars online |
| N/A | A+ Better Business Bureau Rating |
| | Beer Club options with both Imported & US Beers |
| | Beer Club options with both 750 ml and 12 oz Beers |
| 2006 | Year founded |
| FlyingNoodle.com | |
| --- | --- |
| MonthlyClubs.com | Offers Four Unique Beer Club Options |
| | Offers Three different Wine Club Options |
| | Shows past featured products since year founded |
| | Can order 2-12 months on all clubs |
| | Gift Memberships can be paid monthly |
| | Offers Design Your Own Club™ Program* |
| | Exclusive Featured Products available only to members** |
| | Re-order your favorite wines, beers & cigars online |
| N/A | A+ Better Business Bureau Rating |
| | Beer Club options with both Imported & US Beers |
| | Beer Club options with both 750 ml and 12 oz Beers |
| 1995 | Year founded |
| GreatClubs.com | |
| --- | --- |
| MonthlyClubs.com | Offers Four Unique Beer Club Options |
| | Offers Three different Wine Club Options |
| | Shows past featured products since year founded |
| | Can order 2-12 months on all clubs |
| | Gift Memberships can be paid monthly |
| | Offers Design Your Own Club™ Program* |
| | Exclusive Featured Products available only to members** |
| | Re-order your favorite wines, beers & cigars online |
| | A+ Better Business Bureau Rating |
| | Beer Club options with both Imported & US Beers |
| | Beer Club options with both 750 ml and 12 oz Beers |
| 1994 | Year founded |
| MonthClubsStore.com | |
| --- | --- |
| MonthlyClubs.com | Offers Four Unique Beer Club Options |
| | Offers Three different Wine Club Options |
| | Shows past featured products since year founded |
| | Can order 2-12 months on all clubs |
| | Gift Memberships can be paid monthly |
| | Offers Design Your Own Club™ Program* |
| | Exclusive Featured Products available only to members** |
| | Re-order your favorite wines, beers & cigars online |
| | A+ Better Business Bureau Rating |
| | Beer Club options with both Imported & US Beers |
| | Beer Club options with both 750 ml and 12 oz Beers |
| 2003 | Year founded |
** Exclusive featured selections are available in our beer, wine and cigar clubs.
**Our Design Your Own Club™ Program allows you to combine our wine, beer, cheese, chocolate, flower and cigar of the month clubs into a single highly personalized membership, sending whatever you want to send, whenever you want to send it. You can easily ship or skip in any given month, determining the schedule and product combinations that are perfect for you or your gift recipient. You can even ship more than one product in any given month. No other monthly gift club offers that kind of flexibility.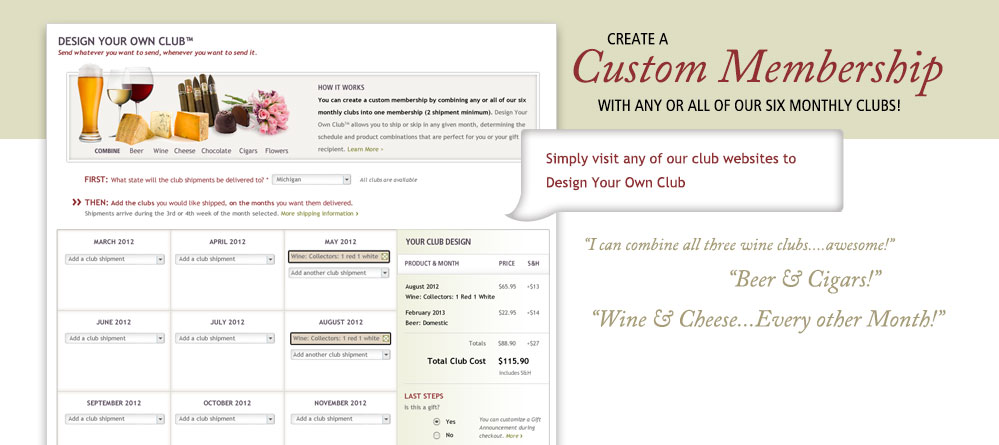 Quality and Variety Since 1994
The key to our success over the last 20 years is unquestionably our quality-driven product selection processes. MonthlyClubs.com™ was founded and continues to be run on principles dedicated to consistently delivering quality and variety at outstanding values through our stringent selection processes. We don't just say we have an expert panel. We really do. In fact, we have six, one for each monthly gift club. I invite you to explore our Product Selection Process pages on each site and compare them to how others describe how the product you're buying is chosen. It's really the most important part of what we do and we want you to feel good about it.
We're committed to building long-standing relationships with our customers by offering reliable, friendly, responsive, and effective customer service from a trustworthy, well-established company. And by doing so we've earned the right to brag that 98% of our customers surveyed stated that they would highly recommend our products.
We take our 100% satisfaction guarantee quite seriously. Rest assured that if you or your gift recipient is not completely satisfied with every product you purchase at MonthlyClubs.com™, you'll be able to return it for a refund or replacement.
Thanks so much for making time to compare our company with the other monthly gift clubs out there. I hope to earn your trust and business.
Sincerely,

Kris Calef
President and Founder

We invite you to compare a few of our subscription boxes to the competition and see why we stand by our 100% customer satisfaction guarantee.